Green wedding in a rustic atmosphere - a sustainable trend
Those who love nature and the feeling of freedom and who care about a conscious and sustainable lifestyle will love the so-called green wedding in a rustic atmosphere. It is a wedding trend that is gaining importance and providing much more than just a lifestyle.
In the following article, let yourself be inspired by a very special wedding style that will give you endless interpretations!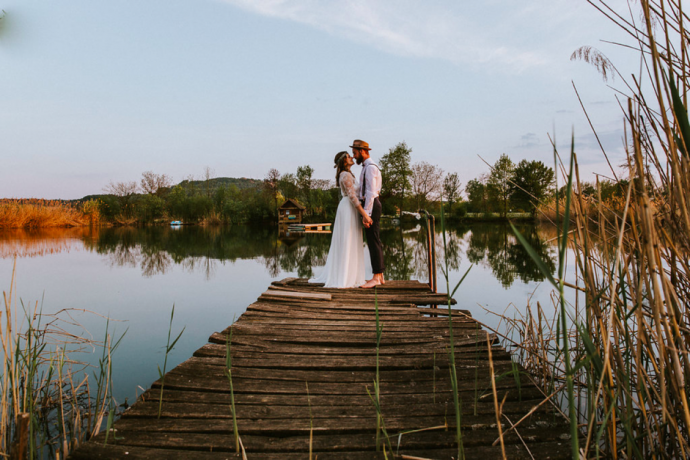 The green wedding
In addition to brown, green is possibly the color most commonly found in nature. It is not only a sign of nature, but also stands for hope, happiness, spring and summer. In the spring, nature and animals awaken from the long and dark winter, which reflects the color of the meaning of life and a new beginning. As a result, it is of course a suitable theme for a wedding and can represent the beginning of a long, common and happy life as a family.
As the name implies, the green wedding is characterized by green-yellow plants, decorations and an outdoor location. A wedding outside offers a great variety and scope for different interpretations, whereby the trend can be wonderfully combined with other themes. But also, the connection to nature, the idea of ​​sustainability and the trend to home-made and upcycled products can be implemented particularly well with this topic.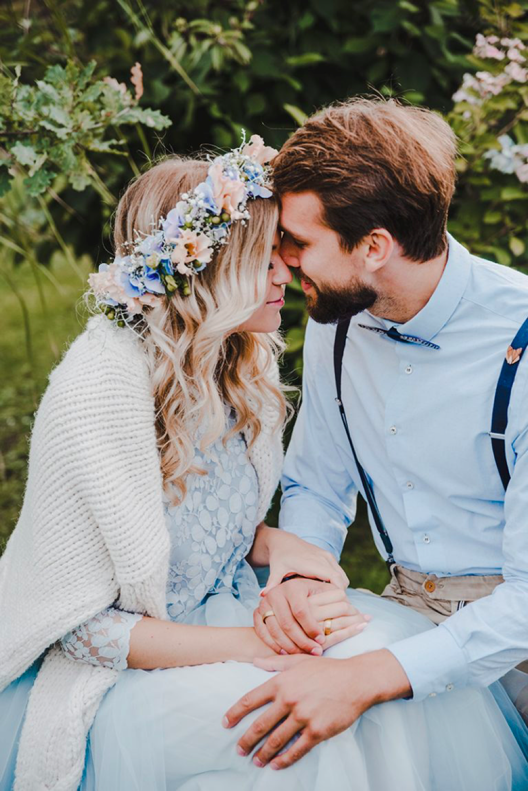 Those who are not able to have the wedding outdoors, in their own garden, a lake or in a park can also celebrate indoors and combine white and yellow tablecloths with green and yellow decorations, plants and some wooden elements to make their location special and to give it a natural note. No matter which location you choose, in any place it is possible to skillfully implement the theme. The only thing you must keep in mind is to stay true to the green wedding style. For example, if you want a rustic and romantic flair, a barn or farm estate in the countryside is particularly suitable. But also, a location in industrial style, can be transformed with the right vintage elements and green accessories in a cozy, nature-loving and at the same time rustic place.
Ivy trees, vine leaves, eucalyptus and succulents are some of the popular examples of a green wedding. But also, loosely bound bouquets of wild and meadow flowers lend themselves to round off the green summer wedding and convey a sense of handmade naturalness. But even those who marry in autumn, can implement a green wedding skillfully. For this purpose, you can focus on the theme of "forest" and experiment with fir trees, berries and shrubs in green and berry-colored tones. A practical trend, because plant green is a cost-saving alternative to exotic flowers and bouquets, which at the same time protects the environment because they can be found in almost any environment and can therefore eliminate environmentally harmful transport costs.


Green meets vintage
To deepen the idea of sustainability, many bridal couples still combine their green wedding with the rustic vintage theme. What is more nature than the countryside? Old and new elements and woods complement each other particularly well with green leaves, moss and the typical fabrics, such as lace and linen, which you will encounter at a vintage wedding. The combination of these two themes really makes a green wedding in a rustic atmosphere possible. But not only the sustainable and conscious lifestyle is a commonality of the two wedding trends, also the creativity and the idea of the self-made look are in focus.
Furthermore, vintage accessories can be perfectly matched to a green wedding. The bride can wear flowers on her wedding dress and a beautiful flower wreath on the head, which picks up the theme of the green flower decoration or subtly tune her make-up. Also, the groom has many possibilities. In addition to his suit in vintage style, he can coordinate the colors of the decoration on his bow tie, his suspenders, his cufflinks and his pocket square. For example, when celebrating in fall dark greens, purple or wine-red tones dominate the decoration, so the groom can adapt his accessories to these tones. Especially red and olive are colors that pick up the vintage theme and are in great demand this year. This creates a balanced atmosphere between the bride, groom, decoration, nature and the environment.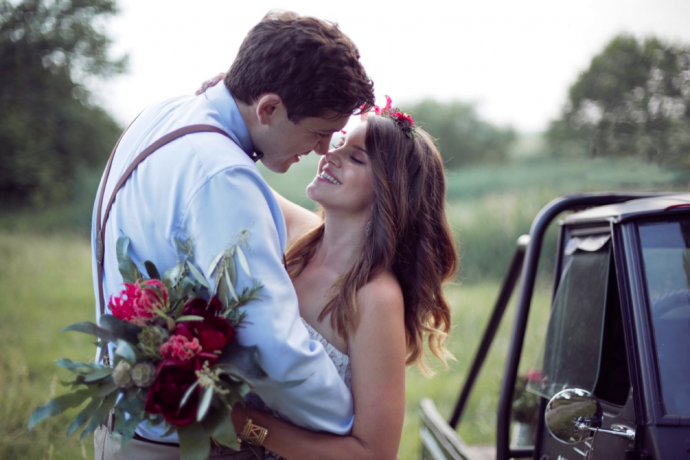 ---
---