Wooden watch Rose Watch
269
€
incl. VAT
, Plus shipping and handling
In stock
, Expected delivery on Thursday 14.12.
ON ORDER
, we will deliver the product to you within 14 days.
60 days for exchange or refund (after Christmas)


What is monogram?
Add a personal touch to your watch by engraving your initials. The text is stamped into a leather strap under the dial. Two characters are possible.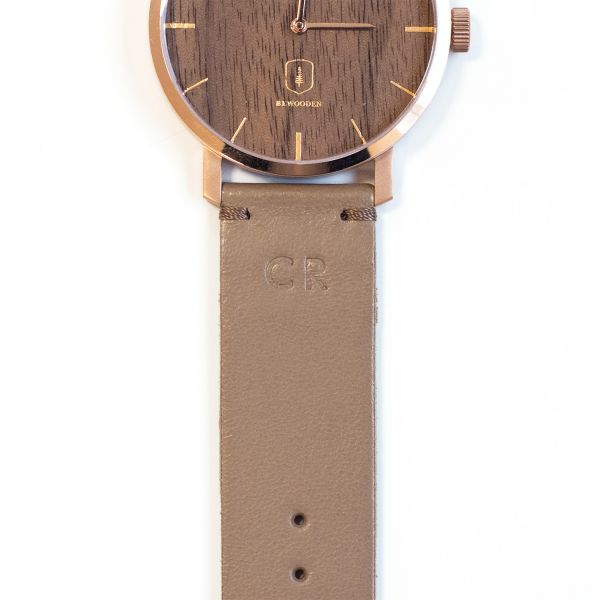 Product temporarily out of stock. Within 14 days we will have replenished our stock. If you order the product, your order will be given priority and we will inform you about the shipment.
If you want your style to speak for you, you need to pay enough attention to choosing accessories. Rose watches are women's watches, which originated in the Czech Republic by traditional production. The exclusivity also adds a combination of oak wood, genuine leather and surgical steel in rose gold. The dial is 40 mm in size and the hand-sewn strap has a width of 20 mm. Everything is complemented by the finest sapphire crystal. Watches do not significantly harm even a single contact with water, but for diving or swimming are not suitable.
We use natural materials for our Accessories. This is why each and every one is unique. Product Pictures are illustrative.
Wood: Walnut
Material: Stainless steel
Size: 70-105 mm
Colour: Rosegold
Width of the strap: 20 mm
Exterior colour: Grey
PostNL
FREE
Free shipping on all orders over 50 €
---
Colissimo Pickup point
FREE
Free shipping on all orders over 60 €
---
Colissimo courier home delivery
FREE
Free shipping on all orders over 50 €
---
BE Post
FREE
Free shipping on all orders over 50 €
---
Hermes
FREE
Free shipping on all orders over 50 €
---