Rebellious wedding in black and white
Although the colour palette gives a variety of tones and can thus fulfil any colour desire, the combination of black and white is still the most frequently chosen option. She is both rebellious and elegant, timeless and yet romantic enough for your big day. She is a bit like you - two contrasts that complement each other and make the perfect combination.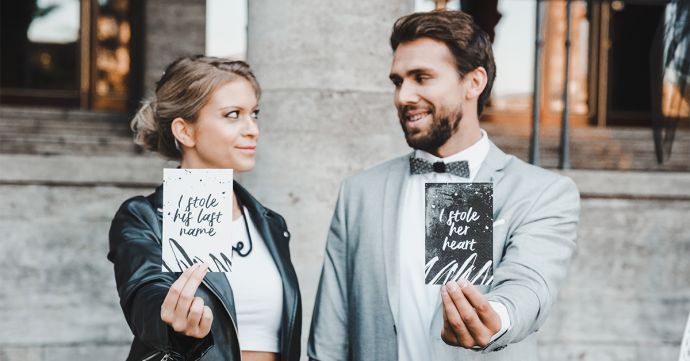 Plan your personal dream wedding
You will only experience this special day once in your life and remember it forever - so do not be afraid to implement your wishes and ideas. Plan your wedding according to your personal taste. A wedding is often compared to a fairy tale and where else would wishes actually come true? Let your imagination run wild!
A cool combination with that certain something
The combination of black and white has its advantages. At least it makes the selection of decoration much easier, because matching the colour is not always easy. Nevertheless, even with black and white you have to choose carefully, so that your wedding does not seem too serious and bleak. With a few tricks, you can break the cool combination and give it that certain something.
The decoration of the wedding reception also plays a big role. Look at the photos: a timeless and stylish design in the middle of a classic building - just spectacular. Wooden furniture and a large, fresh bouquet of flowers breathe life into the backdrop. With fine details made of metal, such as gold cutlery or candlesticks, you can give the atmosphere an Art Deco touch.

Contrasts and patterns are allowed
You can even play with some patterns. If you restrict yourself to two colours, you have much more possibilities to work with motifs and patterns on the decorations - dots, stripes, check patterns ... you have no limits and you can choose according to your own taste. In the same way, a wide variety of materials can be used. Did you see in the photos what a beautiful combination of plastic, wood, metal and stone can be?

Food matching the colour scheme
If you choose the combination of black and white, there is no problem in keeping the food in this colour scheme - and all this without food colours. The cake, cupcakes or small sweets you can easily decorate with frosting, butter cream and dark chocolate. What about matching cupcake-cups, patterned toothpicks or stylish little candy boxes?
Coordinated to the last detail
It's best to have everything under control so you can really enjoy your big day - so it's important to remember the small details, such as matching accessories. As a bridal couple, you will be the focus of attention on that day and of course, want your outfits to be something very special.


It depends not only on the accessories themselves, but also their combination. The black Cassio wooden bow tie, for example, fits perfectly with the wooden Taurum cufflinks - both accessories not only match each other, but also the black and white scheme of your wedding. If you add a white pocket square
to your outfit, no one will doubt that you've thought through every detail. We recommend that you choose a simple suit without pattern, because this is the day the bride should be the centre of attention.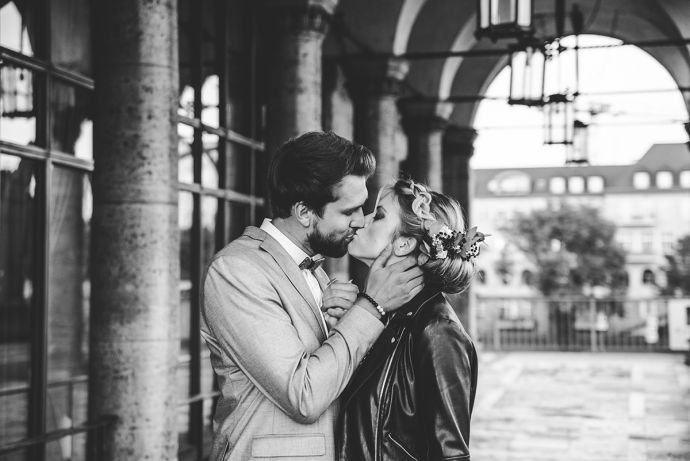 ---
---