Engraved in memory: how to turn your gift into a legacy
A monogram tells a story. It suggests who we are or want to be, puts forth our views on marriage, tradition, and individual identity not to mention the wonderful things it does for everyday items. A monogram consists of a person's initials — usually a variation on the first, middle, and last name—and much has been written about proper monogram etiquette. Most of items ordered on BeWooden may be engraved. To help you get your monogram, we've provided guidelines to monogramming along with a healthy serving of non-traditional ones, so you can make your personal monogram tell a story about you.

There is also a possibility to make a monogram on the item you are planning to have as a gift. We understand the need to make your gift as unique and special as the person receiving it. Sometimes expressing yourself may be difficult. Let our specialists help you choose the perfect gift or to make your gift a wonderful treasure for years to come.

Remember that a personalized gift is special—it was made just for a particular person. There are hundreds of ways to leave a mark, from wedding dates to meaningful quotes, but a classic monogram wins as the most popular way to personalize a gift. Before you set out adding initials, it's important to know the rules of engraving. Let us introduce you some of them.

What to Monogram

A little personalization can go a long way. You can add your initials to just about anything, from jewelry to doormats. But that doesn't mean you should add them to everything. Opt for one or two personalized items, like bow tie, which can be easily swapped, or cufflinks. Keep it in mind when you're preparing an unusual gift. Since each design is individually drawn and engraved, each piece stands as a distinct bit of artistry. Note that most personalized items can't be returned.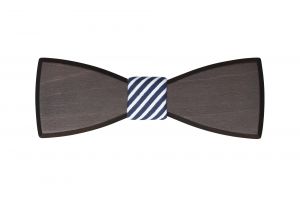 Add to cart



Items that can be engraved

Firstly, it is important to choose the right item you want to have a monogram on. Engraved items make wonderful and special gifts for all kinds of events, particularly weddings or birthdays. They offer the opportunity to give a gift that is special and meaningful. There are many reasons why you may want to purchase engravable items, so we've made it super easy to find the perfect item. BeWooden offers engraving in a variety of categories, including bow ties, cufflinks, wallets, cardholders, belts and pocket mirrors. Some items even allow for short words to be engraved. Here are a few tips for the most commonly monogramed items.

Bow ties

You have heard about a wooden bow tie, but did you know that it can be also engraved? It's important to have a special accessory for you, which would remind you about an event. A monogram, date of the event you remember by hard or a quote, which inspires you for new goals.

Cufflinks

The type of monogram used is often determined by the shape and size of the cufflinks. Since BeWooden cufflinks are usually not bigger than 3cm, the most suitable monogram to add on it is initials. The last initial is used most often, as it takes up the least amount of space. In some cases a couple prefer to have their initials in an inverted triangle shape with the woman and man's first initials on top, and their last initial below.





Wallet and cardholder

If you enjoy being special then you may like to have a personal engraved wallet. Sounds great, doesn't it? Every purchase from the wallet will give even more pleasure. It's wonderful to get in control of your budget, but also "to show" to money whom they should come to and stay with.

Belt

Such an ordinary accessory as a belt can be engraved as well. Most commonly people prefer to have their monogram or single last name. Sometimes grooms prefer to have a joint monogram of bride and groom names initials. It's definitely the accessory which will always remind you about one of the best days in your lifes.



Pocket mirror

Girls like themselves and they often check their splendor. The best way to tell them they are beautiful is to give a personalized pocket mirror with a monogram.

Ways to engrave

A personal monogram consists of three initials (first, middle and last names). If person doesn't have a middle name, they usually use a dual initial monogram or their last name initial only.

A man's initials usually don't change—the exception is if he and his spouse use a hyphenated last name after they're married. A woman's initials, however, are more likely to change once she's tied the knot. Traditionally, women shift their maiden or given last name to the middle name slot (dropping their given middle name) and take their husband's last name in place of their own. As a result, their personal monogram changes by two letters. 

But tradition isn't the only way. Some couples are using both last names (with a hyphen) and some women are keeping their maiden names professionally but not socially. Needless to say, monograms can be a bit more complicated. Decide on what works best for you as an individual and as a couple—in other words, there's no right or wrong way.

Couple Monograms

Many couples choose to monogram items using both of their initials. If the bride takes the groom's last name, joint monograms are pretty straightforward. In most cases, the woman's first name initial comes first, followed by the shared last name initial, and finally the man's first initial. Christina Maria Harvey and John Charles Lloyd would use ESC as their joint monogram, with the center initial being slightly larger than the other two. If the bride and groom decide to share a hyphenated last name, a hyphen is also used in the monogram. Christina Maria Harvey and John Edward Lloyd would be the Harvey-Lloyd family and use C H-L J as their joint monogram.

If the bride decides to keep her given name, the couple's monogram would be dual initials only; the two last name initials are separated by a dot, a diamond or some other design element. This distinguishes the monogram from a hyphenated last name monogram. For example, Christina Maria Harvey and John Edward Lloyd would use H*L as their joint monogram. Per tradition, a joint or married monogram should only be used after the couple is official, for example, after the ceremony, during the dinner. Most monograms are done with letters at all the same size. If all the letters are the same size, initials are ordered like your name: first, middle and last.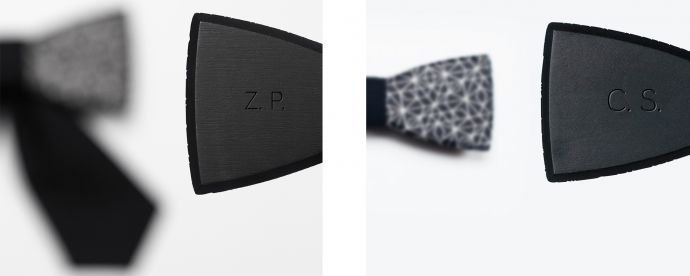 Monogrammed wedding gifts

Lately, many couples prefer to have as a gift for their wedding a "golden envelope", which could help a new-born family in their future life. Even though it sounds practical (and boring) here are some ideas how to nicely surprise a young couple with a personal gift.

Bow ties for Her and Him

Most items with personalization as a wedding gift is usually wedding china, linens and wine glasses. But how often do we use any of those? BeWooden offers an alternative way of wedding gifts such us monogramed bow ties for couple. If the beloved ones appreciate their own style, care about the nature and follow fashion trends it will be definitely a special and unique for a couple.

Mirror for Her, Wallet for Him

It is not a 20th century anymore, when women stayed at home to deal with hometasks such as cooking, cleaning, child caring, and men were used to leave home in the early morning to the work and came back in the late night. Now it's all different and couples are used to share responsibilities. However, some things won't change: girls stay beautiful, boys keep the budget. We respect traditions and want to support the beauty of the bride and the power of the husband. Monogrammed gifts may be a great way to remind their owners about the love and support of each other.

BeWooden is pleased to offer monogramming, by a special engraving laser. You may select your preferred font style and size of the monogram.
Author: 
Anastassia Grigorjeva
---
---