BeWooden Faces Episode 1
It's fact that the language of music is the same in all cultures. The fact that musicians-refugees perform on a charity tour together with German symphony orchestras is totally new. How did composer Nicolas Ruegenberg come to this idea? What makes him special in our eyes? And when does he wear a wooden bow tie? You will know from the following interview.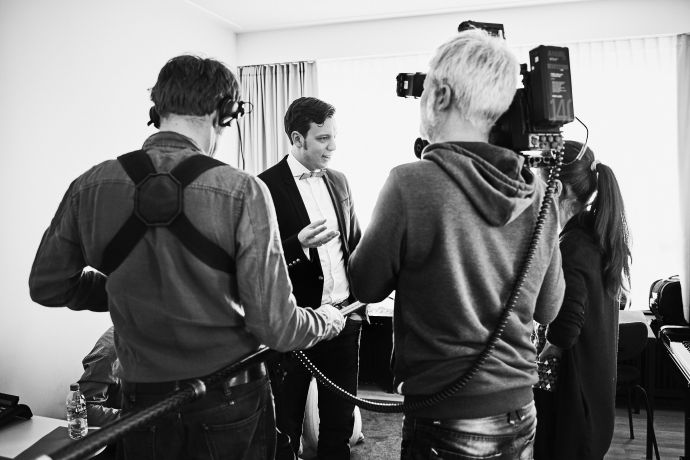 "I have always played a lot of music on different instruments," Nicolas Ruegenberg told us when we met with him for a coffee in Bad Vilbel, Germany. It was as enjoyable as it can be, when a child discovers his interest in music in an early age. Nicolas's aunt decided for him that it'd be great to start from drum, which should have given a "great pleasure" to his family since he played it all day long. A serious musical start marked when Nicolas started to play piano at the age of six. In addition, he learned how to play a church organ. This complex instrument offers interesting possibilities for composing, because an organist can choose from a variety of sound combinations. And so Nicolaus tried 9 years of his first compositions. This was the beginning of the further career and after high school, he worked as a film composer in Wuppertal and Bonn for 1 year. With the diploma, Nicolas moved to Boston, which is a homeland for such prestigious universities as Harvard University, the MIT and also the Berklee College of Music, where Nicolas started his studies. A scholarship allowed him to study in film music and classical composition departments despite the high study fees. However, after a while he decided to work more on classical composition. In the film music, mostly there is an enormous time pressure, while a classical composer usually has more time available. "In addition, the role of music in the concert hall is different from the music in the film, in which it has to subordinate itself. Of course, I find it charming and am a big film fan, however it was obvious for me on which music I want to take a focus on. For classical music, Germany is extremely well positioned in comparison to the world, with more than 80 opera ensembles, almost as many as in the rest of the world. "So Nicolas decided to go back to his home country and to work as a manager at the New Philharmonic Frankfurt. There he edited songs, wrote compositions for organ and orchestra, and participated in various projects. This was a great opportunity to gain valuable practical experience also in the classical area, because the New Philharmonic offers both sides. For Nicolas one important thing is always on the first place: he wants to tell the story with his music. And to cope with this challenge, Nicolas works on the orders for a wide range of customers, for example one of them is the German Federal Armed Forces.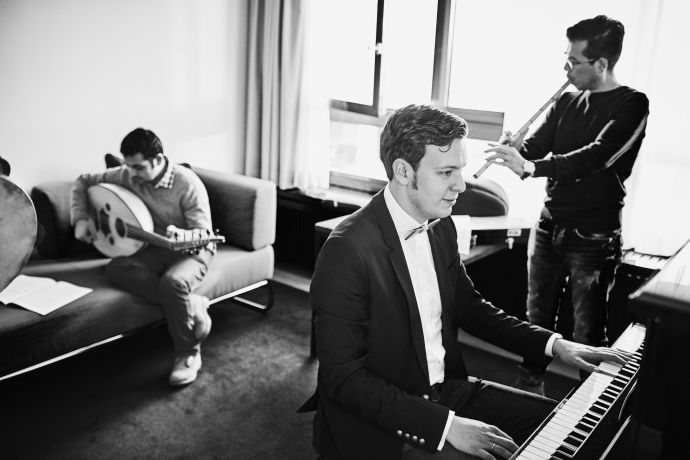 In order to improve his knowledge, he applied to the Hochschule für Musik in Frankfurt, however, at that time he was not offered a compositional course of studies because of reorganization measures. But Nicolas stayed stubborn and was lucky to meet Professor Müller-Hornbach, the head of composition department, and be accepted as a private student, thus ending his education. "I believe that you should always study - so I am glad to have an important mentor Professor Müller-Hornbach."
"Reports about destroyed refugees' homes just shock me", Nicolas says. So I decided to take action myself and contacted fugitives. "Thanks to the love of music, Unisono project gave an opportunity to exchange our love to music in a live show. This music project mixes compositions, sounds and instruments of different cultures in a single piece. Firstly, the artists had to familiarize themselves with each other and to find the most consistent result together - not an easy task. And yet - the premiere with the Berliner Symphoniker turned out to be a complete success, even Consortium of public broadcasters in Germany and Second German Television were interested. It was a great experience for all participants and thanks to the great attention, Unisono was also performed at the Berlin Philharmonic Open Air 2016 with Syrian Expat Philharmonic Orchestra. Nicolas also wrote a special version for school and amateur orchestras. Nicolas was given the opportunity to present his work as a whole symphony for the church day on the famous Gendarmenmarkt (Berlin).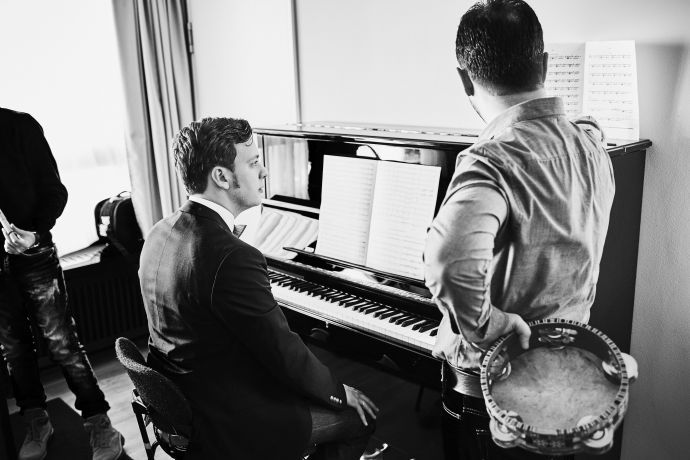 And now we have to ask Nicolas a few more questions.
How do you manage to handle so many projects?
This is indeed an immense workspace, which can also be 90h per week. Fortunately, I am supported by great partners such as the Lions Club and a PR-agency that even works pro bono for the project. But the most valuable for me is the unconditional support of my wife.
What made you think about classical music?
At first I saw my future in film music, but in this industry, there is an extreme time pressure. For the film "Troja", the responsible film composer had only 3 weeks to produce over 3 hours of soundtrack, an insane performance. In these circumstances, there is simply no space left to create complex compositions. In addition, I am very inquisitive when it comes to work music details. And so I chose classical music. I am a big fan of movies and my absolute favourite among the film composers is John Williams, with his beautiful and very filigree works (Star Wars, Indiana Jones, Schindler's list, etc.)
Have you met famous personalities during your studies in Boston?
Yes. Since my university has a good reputation, I have encountered all sorts of music. There were more than 20 Grammy winners among the teachers, and I even received lessons from Isaiah Jackson, who had already directed the Queen for the Royal Ballet, Covent Garden. Otherwise there were also John Mayer, the drummer of Beyonce and the famous German conductor Kurt Masur. This is a wonderful story for me, because one day he was close to the place I lived. I wanted to get to know him personally, and stood on the way of the artist's exit. When Mr. Masur finally came, I introduced myself in German and tried to give him a CD with some self-written compositions. But he answered only in English and quickly got into his car. A very confusing moment. The famous German conductor Kurt Masur does not speak German? I decided to write a letter in English - but this time I wanted to make sure I could give it to him and talked to the local staff. It turned out that during our first meeting, I had not been waiting at the artist, but at the supplier's entrance, and the gentleman with whom I had spoken was not Kurt Masur at all. Then I actually met Kurt Masur - and gave him the English letter along with CD. I guess he must have been quite confused when he read my letter. In any case, I never received an answer.


Music and fashion come from your personality, feelings and individuality. Does a musical talent also go hand in hand with good taste?
According to my experience - not necessarily (laughs). Musicians want to express themselves, are often eccentric and almost always individualists! I would distinguish between jazz and classical musicians, although, of course, a strict dress-code for musicians usually prevails in classical concerts - there is still little room for individuality. That's why, as a composer, I also have the unbeatable advantage of being able to sit in the audience during the performance and avoid the dress-code (laughs).
Tell us your favourite story from your childhood.
The story with the drum was very memorable for me, especially for my parents. In any case, it was great fun ... (see introduction)
What would you describe particularly about you or your character?
I am very determined and persistent. Especially is probably my extremely high frustration tolerance - I believe that if I have something in the head it's very hard to dissuade me.
Where did you first meet BeWooden?
That was on the Wiesbaden Christmas market in 2015.
How would you like to bring people joy?
Of course, I'd like to do that with my music.
When do you usually wear a wooden bow tie?
If the occasion is not too formal, as I have to perform on stage, I wear it as often as possible. However, I have already stood here on the stage with a wooden bow tie. At the moment, I do not wear a wooden bow tie with a tuxedo, as in some moments I prefer to be more classic - but I have seen that you have a nice model with tuxedo too - maybe I will change my mind (laughs). But otherwise, I get only positive feedback and especially from music colleagues!
What do you have on the scoreboard?
I am a notorious coffee addict, sometimes up to 7 cups a day.
Where do you want to strike roots?
Preferably in the Rhine-Main area, but I like traveling around. Perfectly would be a quiet place with a great view!
Your final word?
BeWooden ... BeYourself. I think it's important to be committed to its values ​​today - like BeWooden, for example, in terms of sustainability!
We would like to thank Nicolas for the great interview and wish him all the best in the future.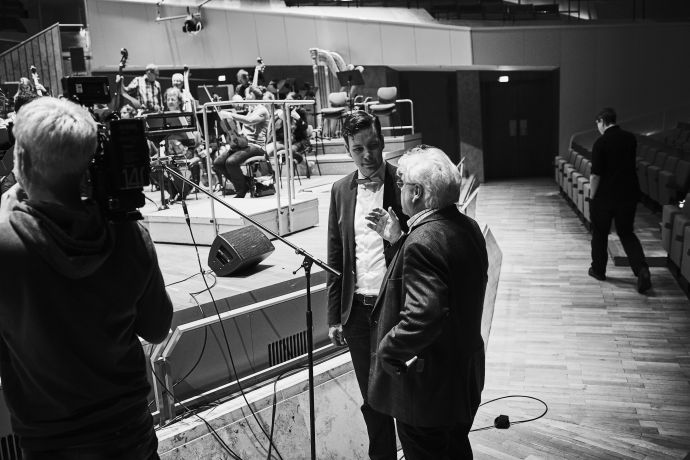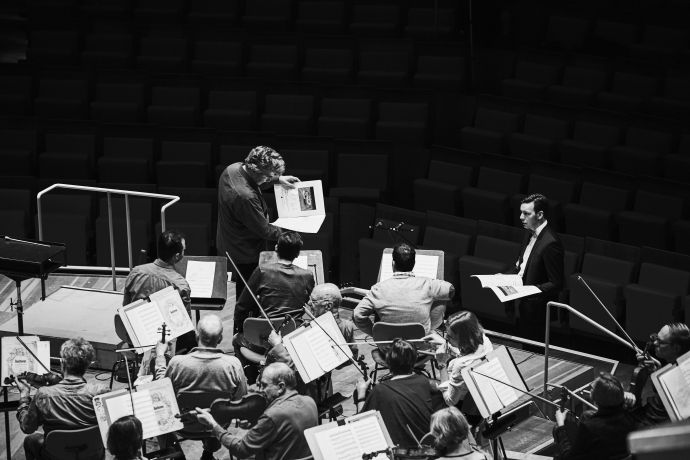 ---
---