An inspiring legacy to share
As Lorinda Mamo said: "Every great design begins with an even better story". We want to show you the limited edition LouxMac Legacy bow tie. Behind this design hides an incredible story which you should definitely know of!
The bow tie that brings joy... the LouxMac Legacy is a bow tie which upcycled the old roof of a local school project and supports the TH children's foundation. It is also a bow tie with the Johannesburg skyline on it. The bow tie is designed by two of the most respected Dandys of South Africa: Loux the Vintage Guru and Tony Maake. The design itself consists of two important parts: The Johannesburg skyline and the LouxMac Legacy name.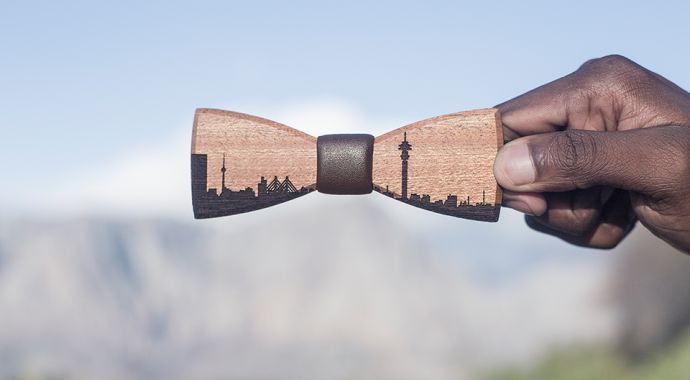 Johannesburg is where almost all original stories of Afro-Dandyism began, and so it is very important for the past and current Dandys that future Dandys know as much as possible about it. By using this city in the design, Loux and Tony hope to make the connection between Dandys and Johannesburg stronger again. This is accentuated by name of the bow tie which is already special by itself. LouxMacRepresents a Loux the Vintage Guru and Tony Maake theme. They are well known in their local countries (Namibia and South Africa) and represent elegant and formal menswear. They truly are part of the dandy movement which same image the bow ties represents.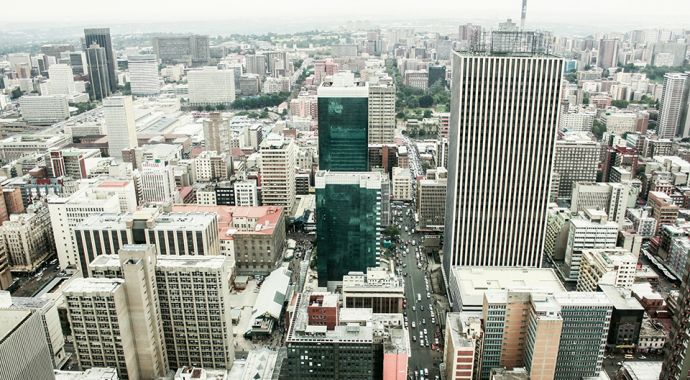 Legacy represents something even more important. All grandparents used to walk around dressed up, no matter what. This is where Loux and Tony got their inspiration from when dressing Dandy. The dressed-up style represents the Dandy legacy, as grandparents passed on their style to their children and grandchildren. The current Dandys want to pass the legacy of their parents and grandparent on to the future generation with in this case this bow tie. They want to make it more 'normal' again to be Dandy and to bring the dressed-up style back into the daily life of the next generation in general.


When designing this bow tie, we wanted people to know where the design is derived from, hence the name LouxMac Legacy. The people will know, it's about looking dapper, dandy, formal and sartorial. We want this bow to continue as a legacy to the next generation, a legacy our ancestors left with us. The design is also inspired by the beautiful city of Johannesburg, particularly the buildings. Besides this you can properly go vintage thrifting here which I very much like to do. I see Johannesburg as the city of gold, everything is possible here! We drew our mood board from there.

Tony about the Design:
Johannesburg is a special city to me, I it is the most vibrant and largest city of South Africa. Many people are afraid of it, it takes a special connection to love Johannesburg: Special jozi for special people, our New York in South Africa! It is the city that never sleeps, also well known as the city of Gold. It's simply an African Hub. But even just outside of Johannesburg, in Alexandra Township, I have very special memories as we were shooting the 'WE ARE DANDY' Book here.

Wood can teach you how to be creative, to create something out of nothing and give it a meaning. Africans becomes creative and alive out of wood, wood gives life if you know how to use it. For me, Johannesburg inspires me, such as Maboneng precinct and Dopa Dopa Fashion street. Also, Carlton Centre Building is one of my favourite skyscrapers in Johannesburg, this is a place where you can see the beauty of Johannesburg at day and night, created by Humankind.


We wanted to connect these two feelings: On the bow tie you can see that we designed the Mandela Bridge, Bree Taxi Rank close to Mandel Bridge and Long and short Distance Trains under Mandela Bridge. It all has a special vibrant connection!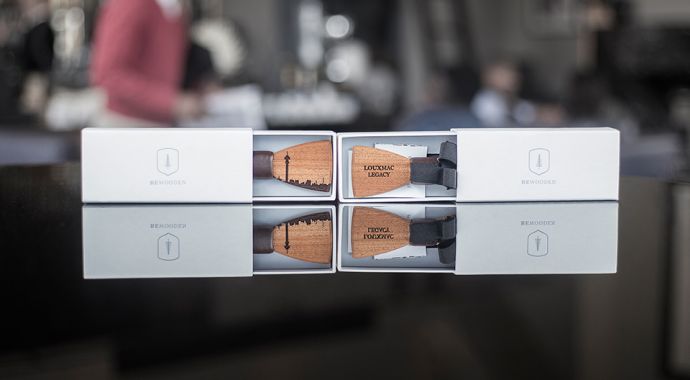 We truly hope the current Dandies will succeed and make Dandyism a statement again for their future legacy. Maybe by just giving the LouxMac Legacy bow tie to the next generation this can already become reality..!

Thank you Loux and Tony to let BeWooden be part of this incredibly inspiring legacy.
---
---