Heart Wooden Bracelet
12
€
incl. VAT
, Plus shipping and handling
In stock
, Expected delivery on Thursday 5.10.
ON ORDER
, we will deliver the product to you within 14 days.
30 days for exchange or refund


What is monogram?
You can highlight the individuality and uniqueness of the product by engraving a monogram. Show others that the bracelet belongs only to you. 


The engraving is placed on a wooden bead. Two letters can be placed on a wooden bead. We use the dots behind the letters automatically, but if you would like to omit them, please add this note to your order.


The engraved bracelet will be a very special accessory for you or for the person receiving it.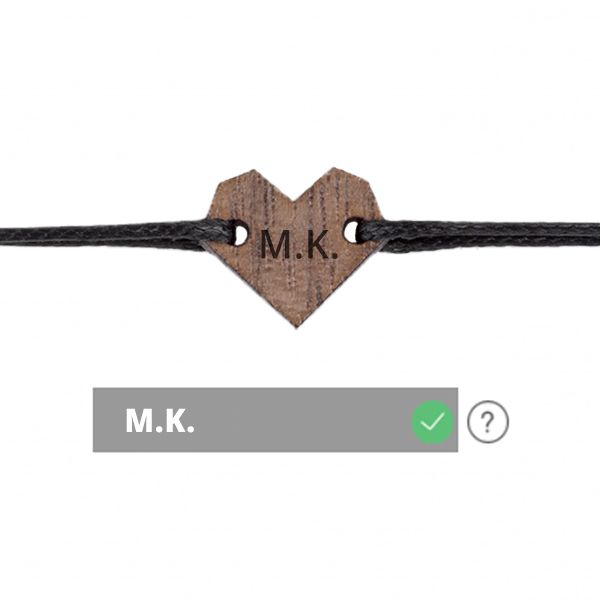 Product temporarily out of stock. Within 14 days we will have replenished our stock. If you order the product, your order will be given priority and we will inform you about the shipment.
The heart symbol is common in many cultures. In some places it represents courage, in others bravery or the power of self-sacrifice. Either way, it is a motif that resonates with us on many levels, and for the person wearing it, it can be a beautiful reminder of the one who gave them this love-filled symbol.

Please note: The bracelet must not come into contact with water!


Wood: Walnut
Material: Cotton
Size: Universal
Colour: Brown
PostNL
7 €
Free shipping on all orders over 50 €
---
Colissimo Pickup point
6 €
Free shipping on all orders over 60 €
---
Colissimo courier home delivery
7 €
Free shipping on all orders over 50 €
---
BE Post
7 €
Free shipping on all orders over 50 €
---
Hermes
7 €
Free shipping on all orders over 50 €
---