How you and your groom perfectly match together for your vintage wedding
Who is the most important couple at a wedding? Of course, the newlyweds. Just as they symbolize their connection with this ceremony, they should also do it apart from the rings. This is best done through the clothes. Because what could be nicer at your wedding day than showing with your outfit that you belong together? Of course you should not forget the tradition. Because generally, the groom should not see the dress of his great love before the special day. But how can you two still fit together without seeing the dress? This article will tell you how.

The Outfit
In most cases, the bride's dress is bought months before the big day. Thus, it is up to the groom to buy the matching suit. When it is already clear that the wedding will be in a vintage style, the selection will be a bit easier and experts of the motto will know what the groom should choose. However, in case of doubt, you can always play it safe.
Now, we have prepared some easy ideas for the groom:
1. Ask a friend or acquaintance who knows the bride's dress or was present at the time of purchase to accompany you when buying the suit – the person will know which suit is suitable.

2. Go to the same shop as the bride - The experts can be informed that the future groom will come and what the motto is. So you have professionals at work who will know what fits perfectly with the wonderful dress of the bride and her chosen style.
The next two tips refer to the bride!
3. Give him tips - Another way to match perfectly is to give the man tips on how the dress looks like. Is it rather simple or does it have a lot of lace and pearls? Which color is it? Which materials or fabrics contains the dress? So the surprise effect is still there when the big day has come and he has some idea of ​​what he should buy or what to tell the expert.

4. Give him a fabric sample - A fabric sample doesn't reveal too much of the overall look of the dress, but can be helpful for experts especially when the motto is mentioned to find the right suit.

The Colors
In general, it's best to fit together, when the colors are similar. Most wedding dresses are usually traditionally kept in white while the groom has more colors to choose from. Because every color suits white. When it comes to vintage, the groom has a wide choice between gray, blue, beige and brown colors. The chosen fabric is mostly fine and mottled. It is also always a good idea to ask an expert what would fit best for the dress.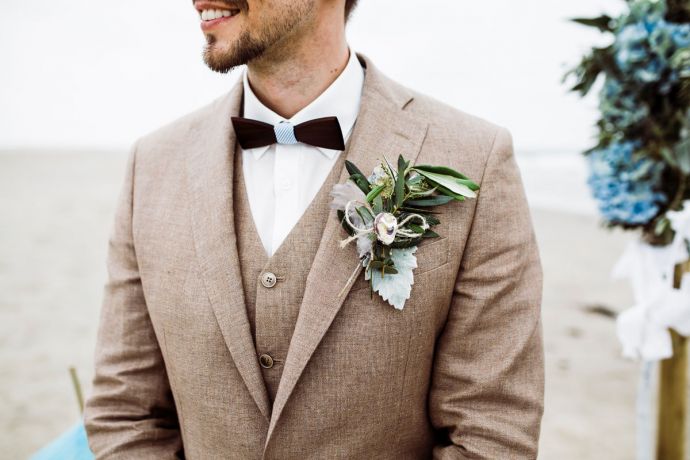 ---
---