Wine meets wood!
Winery Špalek is founded on respect of tradition, consideration for nature and passion for a crafting of quality wine. BeWooden reflects these values in our craftsmanship and love of wood. These shared values are the reason why we decided to pursue a common path. Our path is blanketed with aromatic sawdust, Špalek's with grapes, patience and care.
At first glance, we may not seem to share anything in common, our philosophies are quite similar. We do what we love every day and continually strive to improve. When things don't go accordingly to plan, we find solutions and learn from our mistakes. We never rest on our laurels and are motivated by the potential for improvement.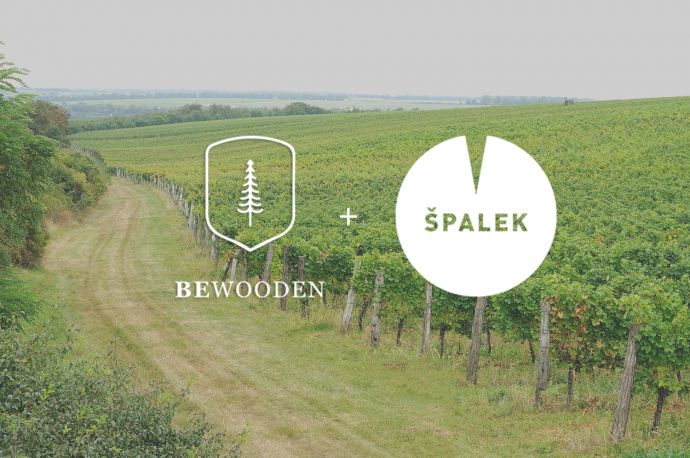 Špalek Winery is a family business that has taken care of almost 10 hectares of vineyards in New Šaldorf to Znojmo region since 1945. Francis, his wife Martha and their sons Peter and Mark are true winemakers, body and soul. You will not find them lounging with a glass of wine, even if everything is correct. You can see them every day lending one another a helping hand. Literally. Whether it's picking grapes, checking the sugar content of the wine, or giving a tour of the cellars, they put heart into their work and this is reflected in the wine.
At BeWooden, we share this passion as we put diligence, patience and joy into the making of our products; we hope that they show our love for wood. The personal touch makes the world more beautiful, whether it's hand-shaping a bow tie or hand-picking grapes.
With admiration and respect for the Špalek family and their values, we decided to create something that will connect us. Something that represents our common views. Something formed by the merger of our crafts. We thought for long evenings how to perfectly connect. And then it came to us. Why not utilize the barrel wood to create unique bow-ties and cufflinks?
But before we could start this process, the wood first needed to be prepared. The wines were packaged into hand-blown bottles and the barrels were cut and dried for weeks, so beautifully painted red and white structure.

A long and tedious process could continue.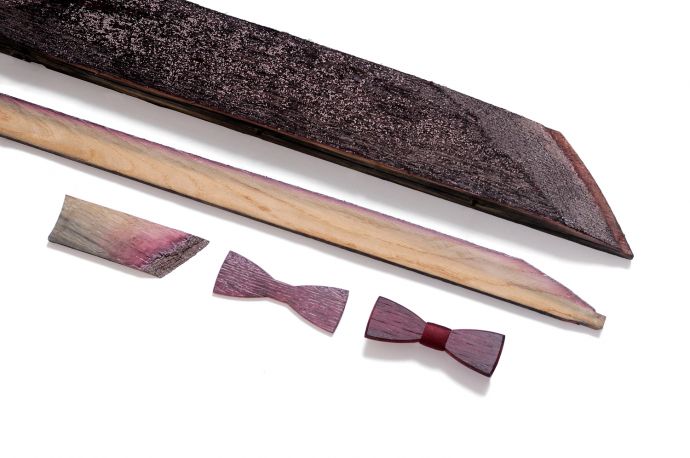 Carpenter Dan worked the pieces of dry cask wine very gently and precisely to preserve the scent as much as possible. Textiler Hanka sewed on the bow, a specialist in detail Kamča teamed silver cufflinks tray.
After waiting several months, during which the grapes ripened on the vine and the wine was ready for collection, we can now with joy and pride, together with the Špalek family, introduce our wine edition: white and red wines accompanied by delicious PETIT EDELSPITZ Pinot gris and PETIT EDELSPITZ Zweigelt, produced largely through 19th century traditions, with minimal human intervention.
Treat yourself to the best of what the Moravian region has to offer with respect for crafts and nature.

Winery Špalek and BeWooden present: Creation WINE!

An exclusive set of cufflinks with silver hallmark and unique bow ties have been crafted from barrels fo red wine, accompanied by PETIT EDELSPITZ Zweigeltrebe, vintage, 2011 and PETIT EDELSPITZ Pinot gris, vintage, 2013.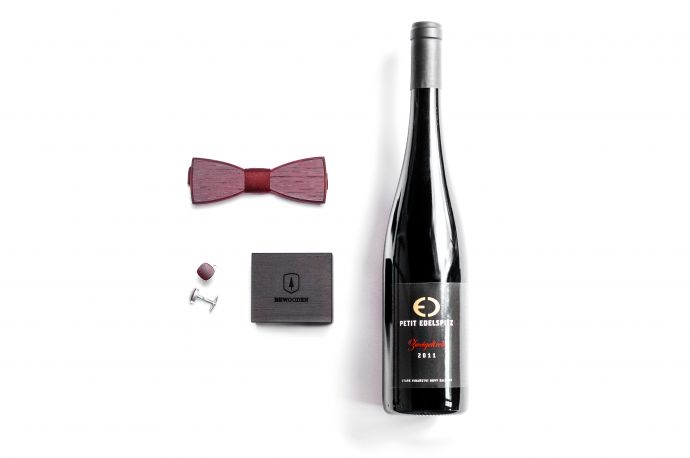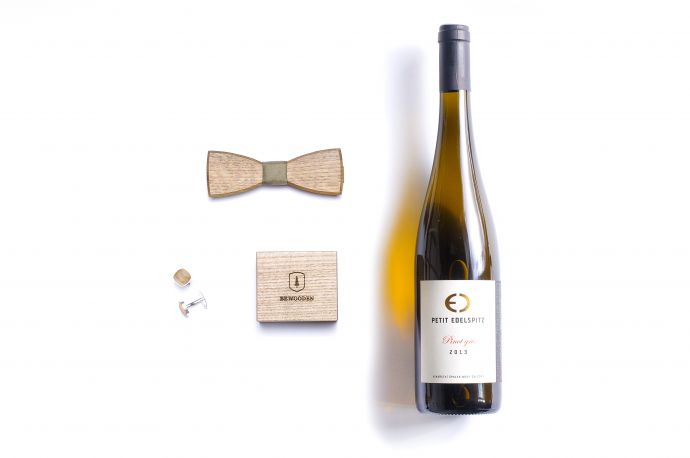 ---
---