iPhone case Zebrano Case
29.9
€
incl. VAT
, Plus shipping and handling
Custom order
, Delivery can take up to 3 days
ON ORDER
, we will deliver the product to you within 14 days.
60 days for exchange or refund (after Christmas)


What is monogram?
Highlight your personality and the uniqueness of your iPhone case by engraving your initials, a dedication or favorite quote. The text will be at the bottom. A maximum of 80 characters can be placed on the case.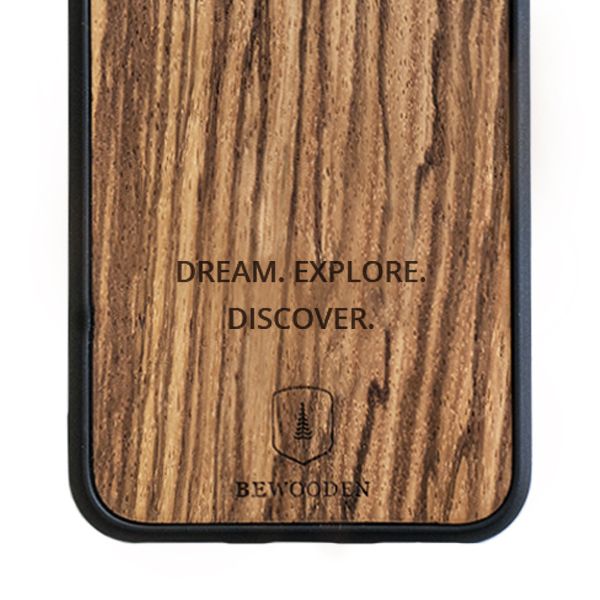 Product temporarily out of stock. Within 14 days we will have replenished our stock. If you order the product, your order will be given priority and we will inform you about the shipment.
Our convenient iPhone case combines beautiful, stylish wooden design with effective protection for your phone. The base is made of a sturdy 1.5mm thin cover covered with veneer and recycled plastic. We chose these materials for their thinness while maintaining great ruggedness. This way, effective protection for your iPhone can be guaranteed.
Available for the following models: X/XS, 7/8/SE (2020), 12/12 Pro, 13, 13 Pro and 13 mini, Phone 14 / iPhone 14 Plus / iPhone 14 Pro/ iPhone 14 Pro Max.
Wood: Zebrano
Material: Recyclable plastic TPU+PC
Colour: Brown
PostNL
7 €
Free shipping on all orders over 50 €
---
Colissimo Pickup point
6 €
Free shipping on all orders over 60 €
---
Colissimo courier home delivery
7 €
Free shipping on all orders over 50 €
---
BE Post
7 €
Free shipping on all orders over 50 €
---
Hermes
7 €
Free shipping on all orders over 50 €
---