Rea
69
€
incl. VAT
, Plus shipping and handling
In stock
, Expected delivery on Monday 11.12.
ON ORDER
, we will deliver the product to you within 14 days.
60 days for exchange or refund (after Christmas)


What is monogram?
Express your original personality by adding a monogram, inscription or favorite quote. Because you are the one who make the bow tie original.
The monogram will be placed in the left bottom part of the back side.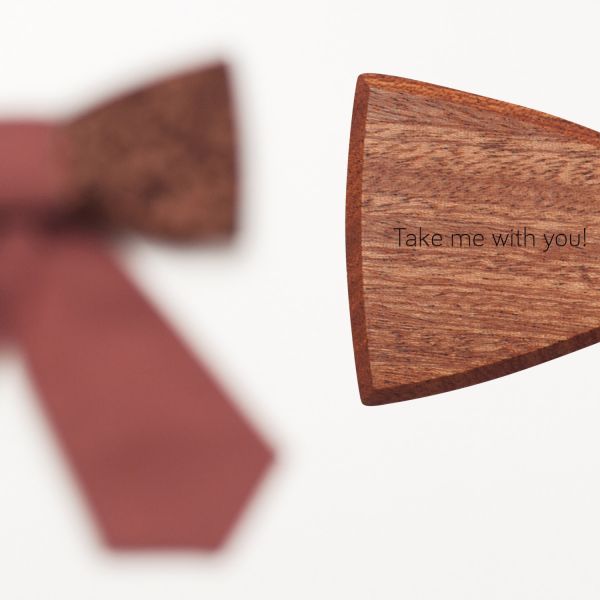 Product temporarily out of stock. Within 14 days we will have replenished our stock. If you order the product, your order will be given priority and we will inform you about the shipment.
The Rea is inspired by the cosmopolitan lifestyle and combines various urban elements, thus portraying the diversity in each of us. The Rea is New York, the city that never sleeps. City life, young and charged. Embark on an endless adventure. Experience the nightlife and be carried by the beat. Make a statement and cross the line. Awaken the courage.
Take the Rea on your life journey - # bewoodenworld

Product photos are illustrative. The materials we work with are natural and their structure is specific. Each piece may differ in appearance and texture. Therefore, you can not find two completely identical products - each one is unique.
Life time warranty: Quality
Wood: Mahogany
Responsibility: Eco friendly
Weight: 34 g
Size: 10,5 x 4,5 cm
Colour: Red
PostNL
FREE
Free shipping on all orders over 50 €
---
Colissimo Pickup point
FREE
Free shipping on all orders over 60 €
---
Colissimo courier home delivery
FREE
Free shipping on all orders over 50 €
---
BE Post
FREE
Free shipping on all orders over 50 €
---
Hermes
FREE
Free shipping on all orders over 50 €
---