Wooden bowtie Immensus
69
€
incl. VAT
, Plus shipping and handling
In stock
, Expected delivery on Monday 18.12.
ON ORDER
, we will deliver the product to you within 14 days.
60 days for exchange or refund (after Christmas)


What is monogram?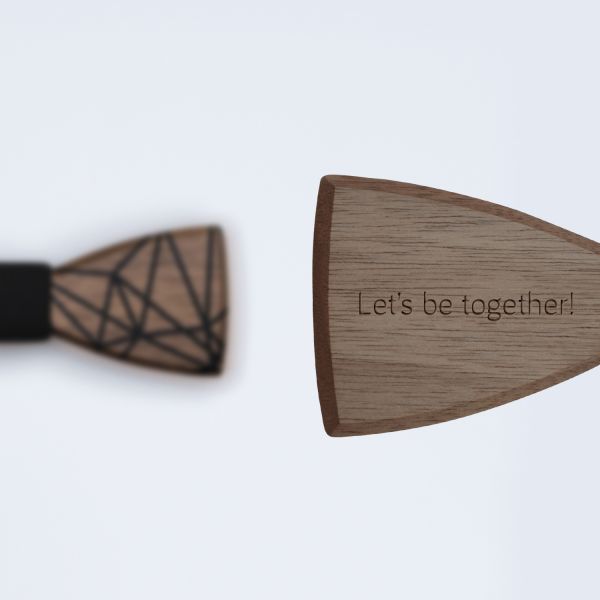 Product temporarily out of stock. Within 14 days we will have replenished our stock. If you order the product, your order will be given priority and we will inform you about the shipment.
The designs of our ARTHELPS Bow Ties are truly something unique. Pieces of Art, created from underpriviledged children in special workshops, served as inspiration for the creation of these accessories.

But our ARTHELPS Bow Ties don't only look exceptional, they also serve a good cause. For each bow tie sold, we will be donating 10€ to ARTHELPS for the planning and execution of even more workshops with children in the future. Look good - do good!
We use natural materials for our Accessories. This is why each and every one is unique. Product Pictures are illustrative.
Life time warranty: Quality
Wood: Walnut tree
Responsibility: Eco friendly
Weight: 23 g
Size: 12,5 x 4,5 cm
Colour: Beige
ARTHELPS-Edition:
PostNL
FREE
Free shipping on all orders over 50 €
---
Colissimo Pickup point
FREE
Free shipping on all orders over 60 €
---
Colissimo courier home delivery
FREE
Free shipping on all orders over 50 €
---
BE Post
FREE
Free shipping on all orders over 50 €
---
Hermes
FREE
Free shipping on all orders over 50 €
---