How do you survive the pre-Christmas season?


CREATE A SCHEDULE
The key to saving a lot of stress and nerves is having a plan and sticking to it. Plan in advance and you will be surprised. Make a diary and write down all the important things and gifts. So you keep the overview and can procure your Christmas gifts in a timely manner. So you can really enjoy the Christmas time, rather than running around in the shops stressed.


MAKE A LIST WITH PEOPLE WHOM YOU WANT TO GIVE A PRESENT
Another point that saves you considerable time is a list of people you want to give a gift. Sit quietly for a few minutes or hours and consider what your loved ones might like. Of course, it's best to listen and take notes during the year. However, if you think relaxed and with a clear mind, you will surely come up with something special.


BUY PREVIOUSLY
Once you've made your list, start acting. The shops are getting emptier and the queues are getting longer. Instead of spending a large amount of money at the same time, it can often be easier if the purchases are spread over a longer period of time. And above all, you can enjoy the quiet Christmas time without any shopping stress.


PACK ALL GIFTS AND HIDE THEM
When buying gifts, think about how you want to package them. In our blog, you will find a nice inspiration for ecologically packaged gifts. You do not need to buy shiny wrapping paper or elaborate decorative items for that. Only with recyclable, natural decorations - cones and walnuts - you can make really beautiful packaging. Gift wrapping early also prevents someone from discovering your gift too early and making the surprise fly away. Make sure you write notes to whom the gift belongs to avoid confusion.


CHRISTMAS CEREALS ARE ALSO IMPORTANT
How about a back weekend? Why not spend a whole weekend baking biscuits? So you can really enjoy it and there are no other dates in between. Perfect preparation is also half the success here. Write down what you need and go shopping. The best way to find all the recipes, decorations and cookie cutter before the weekend.


MAKE A CHRISTMAS PLASTER
The Christmas cleaning is challenging, but it's worth it. The household shines and you feel perfectly well. On bleak winter evenings, you can enjoy the beautiful atmosphere at home. The Christmas plaster is also perfect for decorating the house for Christmas. It's best to do as much as you can before the stressful Christmas season breaks out.


NOW YOU CAN ENJOY THE CHRISTMAS TIME
You baked, your home is neat and the presents are packed and stashed in the closet. Now you can enjoy the Christmas markets, the Advent concerts, the time with family and friends and everything that really belongs to Christmas. That's what the "silent" time of the year should actually look like!
DO YOU ALREADY HAVE A GIFT IDEA?

If you are still looking for inspiration for Christmas gifts, you can browse through the BeWooden products. Which gift can be more beautiful than one made with love?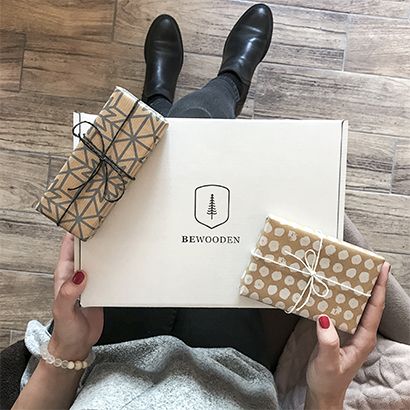 ---
---