Every year again - the Christmas tree choice
Often, during Christmas time, we forget to think about our environment between all the stressful preparations, the mess and the feast. And that although we especially challenge her at this time. When the holidays are over, we don't only drop giftware mountains, but also hundreds of thousands of Christmas trees, whose life barely lasted a few weeks. It is not that difficult to take on more responsibility for the environment during the holidays.


In this article, we are concerned with the purchase and disposal of Christmas trees, a subject that almost all of us face in the cold season. Below, find out how to find your perfect Christmas tree without unnecessarily burdening nature.



Why is sustainability so important to BeWooden?

We work with wood and are therefore considered by many to be primarily environmental polluters who cut down trees and harm nature. But just as there are environmentally friendly ways to get a Christmas tree, there are also responsible ways to get the wood for our products. Therefore, we try to think ecologically in each of our production steps, not only to avoid plastic waste, but also to avoid wasting the finite resources of the earth. BeWooden mainly uses surplus wood from local timber workshops for its products. We'll show you five ways in which you can help protect the environment and preserve nature and its beauty - even during the Christmas season.


Real or artificial? That is the question!
First of all, you should ask yourself the question, whether a real Christmas tree should decorate your living room or rather a plastic tree. Even if an artificial tree is virtually indistinguishable from a real one today and the trees can often be used for many years, it is a mistake to think that you are doing something good for nature: For the production of such a plastic tree enormous amount of energy is needed - apart from the synthetic waste that arises. If you already have an artificial tree at home, try to reuse it as often as possible instead of buying a new one every year. But there is no question that no artificial Christmas tree can ever replace a real one. What kind of Christmas would it be without the fresh Christmas scent of the fir? There would be something missing. The nature of the purchase is crucial to be sure that nature will not be harmed if we enrich it.
1.    Outside in the forest ...
Have you ever heard of the abbreviation FSC (Forest Stewardship Council)? The international FSC certification guarantees that the trees are managed in an ecologically sustainable and responsible manner. So pay attention to both the purchase of your Christmas tree, as well as all other purchases, whose origin is in the forest, so for example, furniture on this seal. So you can ensure that you act responsibly and do not harm nature unnecessarily.
2.    From old to new
More and more forests must be thinned out, for example, to make room for roads or electrical lines. So why not just buy one of those "excess" trees and give it a new home for the holidays? This alternative to coming to a Christmas tree is probably the most ecological way. It may be that these trees are not as perfectly symmetrical grown as the bred Christmas trees from the dealer, as in the woods is often not enough space to grow. But can the Christmas spirit at home really be influenced by a not quite immaculately shaped tree?
3.   Christmas tree plantations
Most of the trees are grown and bred on plantations today, where they are felled just before Christmas. This does not only apply to Germany, as 98% of the Christmas trees worldwide are acquired in this way. The advantage is that the trees here have plenty of room to grow and take on the perfect shape. In addition, they are also real oxygen producers. If you choose this option, you should make sure that it is a tree of regional origin to minimize transportation. For this, there are services such as the Christmas tree center, which brings together producers and end consumers, while guaranteeing excellent quality and healthy structures on the plantations.
4.    Away from the throwaway society
It's easy: Rent a Christmas tree from one of the many nurseries, forestries and nurseries. Already from a price of about 50 euros this service is offered. All you have to do is select your desired tree online or on site and it will be delivered right to your doorstep. The special feature of the rental trees is that they do not start to die like many other felled trees as soon as they are pulled out of the ground. The trees are still alive when they arrive at their tenants. After the agreed term, the trees are picked up again and planted so that they can experience more than just a single Christmas. Such a service is offered for example by the Paderbäumchen. Note, however, that the interest in the rental trees is very large and you should not decide too short.
5.     Christmas tree in a pot
Another option is to buy a Christmas tree directly in the flowerpot. So you save yourself the effort that the setting up of the tree usually brings with it. It should be noted, however, that the tree is not used to room temperatures and a longer stay in a warm room is not good for him. The Christmas tree should therefore be used slowly to the warm temperatures and watered frequently. After the festival, you can plant the tree either in your own garden or in the forest, so that it can continue to grow and prepare for the next year. If you need help with this, you can contact the appropriate authorities, who bring the tree back to its natural environment, the forest.


6.    Where to go with the tree when the party is over?

As beautiful as a Christmas tree is, at some point we have enough of it and want to get rid of it - as fast as possible and without any effort. Let us also solve this problem in an environmentally conscious way!

Many trees are disposed of after the holidays in the fastest way. In most cases, the transport is carried out by the cities. Depending on the municipality, the trees can be brought to a collection point, from where they are picked up and the remains, for example, processed into sawdust. Do not just throw used trees into the forest carelessly, you'll harm both nature and wildlife. On the branches are often metal hooks or small decoration remains that endanger the animals. #

We believe that each of these trees has what it takes to spread Christmas spirit in your home, as Christmas is a time to reflect on what's really important to us. So we should take this opportunity to do something good not only for ourselves and our loved ones but also for our environment. It's easy. In the next article, we will give you tips on how to bring Christmas decorations into harmony with nature.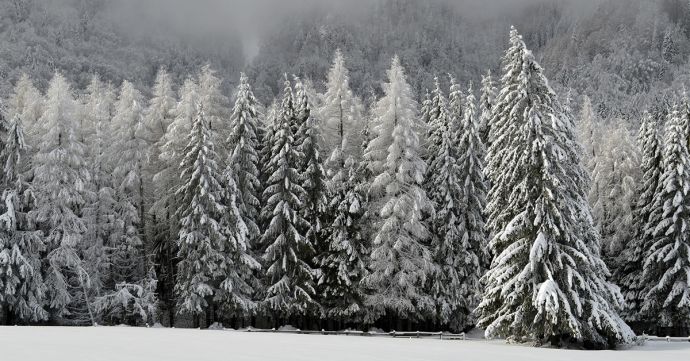 ---
---