Bordo Fogrocks Fabric Handbag
Bordo Fogrocks Fabric Handbag
In stock
, Expected delivery on Tuesday 26.10.
ON ORDER
, we will deliver the product to you within 14 days.
30 days for exchange or refund
Product temporarily out of stock. Within 14 days we will have replenished our stock. If you order the product, your order will be given priority and we will inform you about the shipment.
If you want to show not only your refined taste but also respect for nature, the canvas bag is the perfect choice. The rusty base with a fine wood decor has not only achieved a stylish look but also the versatility of the product. The bag has a height of 40 cm, a width of 38 cm and the length of the ear over the shoulder is 32.5 cm. Thanks to the higher weight, you can enjoy the strength of the product itself. It can comfortably accompany you when shopping, but also when traveling.
We use natural materials for our Accessories. This is why each and every one is unique. Product Pictures are illustrative.
Size: 40 x 38 cm
Colour: Red
Please take care: 3 kg
PostNL
7 €
Free shipping on all orders over 50 €
---
Colissimo Pickup point
6 €
Free shipping on all orders over 60 €
---
Colissimo courier home delivery
7 €
Free shipping on all orders over 50 €
---
BE Post
7 €
Free shipping on all orders over 50 €
---
Hermes
7 €
Free shipping on all orders over 50 €
---
Our philosophy
At BeWooden we rely on teamwork. Learn the people behind the products and our philosophy. Here you can find out who designs the flies, who makes the best stitches on the sewing machine and who is responsible for your satisfaction.

At BeWooden we share a deep connection to nature and its treasures as well as honest, traditional craftsmanship. That's why we don't offer you accessories from the ribbon, but passionately custom-made unique pieces.
Get to know us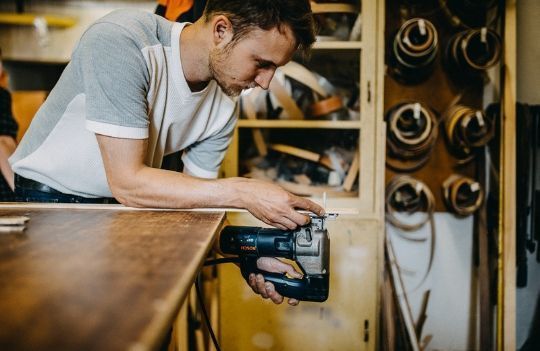 Complete your outfit
You are not only looking for an extraordinary accessory, but a complete set? Then we have just the thing for you: Our new complete package consisting of wooden bow tie, suspenders and cufflinks. The perfect choice for every stylish gentleman!
Discover the countless combination possibilities now and put together your favorite set.
More inspiration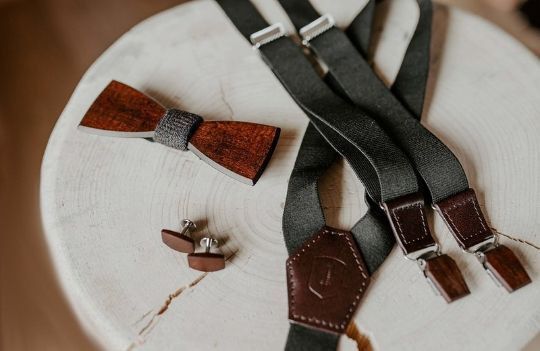 Detailled and precise handcraft
Due to the handcrafted production our brooches show an extraordinarily high degree of detail. This not only makes them distinctive, but also gives them a very special feel. A truly unique accessory!

Also in pairs, our brooches harmonize excellently. That's why we can especially recommend our 1+1 set - ideal as a gift for your loved ones.
Our 1+1 Set