The Business Handbag: For people with a real taste
The business bag experiences a revival in the modern men's and women's wardrobe - it is needed more than ever before. With it you can carry all the things you need at work or in everyday life at all times. In addition to its practicality, it also impresses with its look, which underlines the subtle taste of its wearer. A style that never goes out of fashion.
Unique workmanship
The BeWooden Business Handbag  is a combination of minimalist design and functionality. Through the careful handwork and the high quality natural materials, we can offer you a lifetime warranty. We believe that you will enjoy our accessories for years, because we lovingly and honestly manufacture them. To meet your personal taste, you can choose between black and brown leather. In addition, you have the option to carry the bag with a short or long strap - which means two carrying options for you.
Whether to work or in your leisure - we have designed this bag so that it can accompany you in any situation. The interior is equipped in a way that you can store all the important things in one place. The large inner compartment also has a laptop pocket and a zippered inside pocket. Whether you need it to hold important documents during a meeting, stash your grooming supplies or to have your favourite book with you on a business trip, the bag holds everything you need in one place.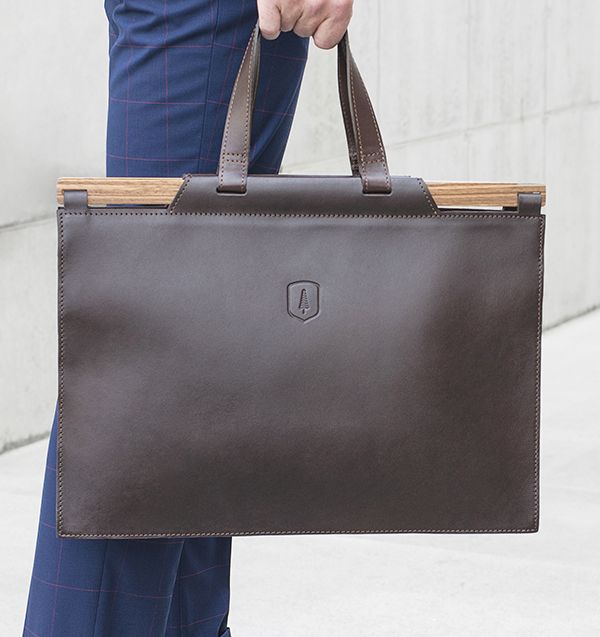 How to maintain the bag
The business bag is made of genuine leather, a natural material that works - that is why the colour can change due to light radiation. The patina is not a defect, on the contrary - it makes your bag unique! If you want to increase the life of your bag, you should follow a few principles. We recommend that you grease it regularly with a high quality leather cream containing beeswax to give it suppleness and nourish its surface. Lightly soiled dust is best wiped off with a slightly damp cloth - avoid chemicals, because they degrease the leather and can cause damage to the surface. You should also make sure that your bag does not get wet – it will harden the leather. If your bag does get wet, wipe it off and let it dry in a room temperature environment.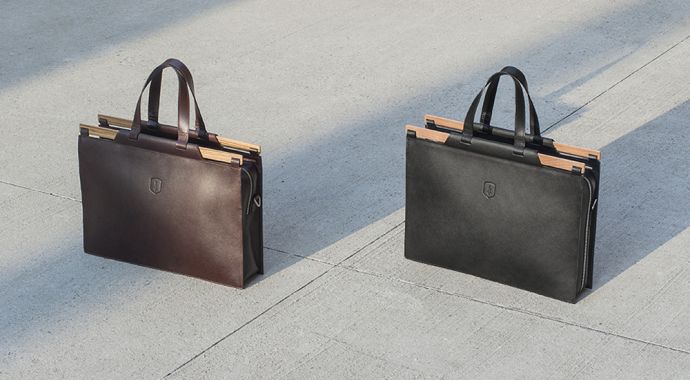 How to combine your business handbag
Every gentleman and every lady knows that it's not just about the right behaviour - even before a conversation begins you try to leave a positive impression. This impression depends on several factors - the smile, the correct handshake and the posture. Self-esteem also plays a major role in the appearance and can be supported by the choice of clothing. A perfectly fitting shirt and a wooden bow tie: an accessory that sets you apart from many others. The perfect length of the trousers, the right-threaded leather belt, a pleasant scent, a well-fitting dress or an elegant bracelet with a wood detail - these are all small details that can leave a perfect impression. If you pull an elegant, wooden card holder out of your business handbag or wooden handbag during a meeting in the office, no one doubts your flawless appearance and sense of detail.
---
---