BeWooden magazine
The first quarter of the year is coming to an end and we would like to introduce our new BeWooden newsletter, where are happy to share with you a couple of news happened in recent weeks.
Right after the new year, a lot of work was waiting for us. Almost every weekend we spent at different fairs in Prague, Hamburg, Berlin, Stockholm, Aalborg…

Our efforts and weekends spent at work brought us a lot of joy because of meeting with our customers, partners, and investors. Additionally, we met a number of new partners and our products traveled to countries such as Peru, South Korea, and Taiwan.

He was so happy to receive our bow ties so our dear friend literally couldn't get apart from them! You might see our bow ties on Mr. Smigmátorem at every concert he performed. Honza, we love you too!

We stopped to count customers, who made their ball outfit charming thanks to our handmade bow ties. And we are happy to notice that you continue to tell a story by your favourite accessory.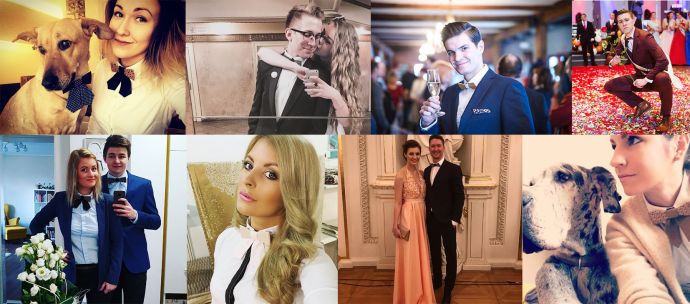 For the ball season, BeWooden presented two special bow ties.
Noticed, that the most beautiful night skies are visible in freezing winter days. We mixed a winter night sky with the bright sky full of stars in August in our new collection, which can be seen in Cassio bow tie for Him and bow tie Cassiopeia for Her. We planned that these bow ties will be just for ball season, but they become so popular that we continue with a production.
We also exhibited in a design, where we worked on several new products. One of them is ready to be launched - beaded bracelets, which were designed by our customers. We tried to find the original design and comfortable shape of the bracelet, which took us time. Even though we started to work on the product a few months ago, only now we present to you the pictures of BeWooden unique bracelets. We could not wait any longer to share them with you.

We never forget what brings you a smile on your working days and always try to make you enjoy it.
Will the collaboration continue?
We've got many new enjoyable products and customer service events.
Follow our Facebook, Instagram or Pinterest to hear from us the first.
---
---